| | |
| --- | --- |
| | This image has been resized. Click this bar to view the full image. The original image is sized 514x720. |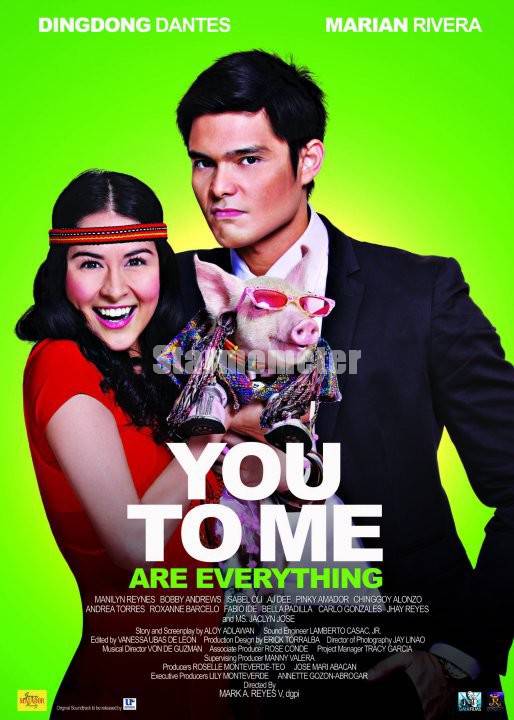 Quote:
GMA Films and Regal Films join forces to fulfill the prayers of Dingdong-Marian fans for a new movie of the real life couple.

Dingdong Dantes and Marian Rivera's first team up in a movie was in the film One True Love which was shown November of 2008 and grossed P50 million in the box office. After almost two years, Dongyan will be starring in a new movie entitled You To Me Are Everything.

The title, You To Me Are Everything, is from the song of the same title by the UK pop quartet The Real Thing. The song was The Real Thing's sole number-one single in the UK, spending three weeks at the top in July 1976. You To Me Are Everything will definitely be the theme song of the movie.

You To Me Are Everything Movie Plot Summary/Synopsis

In the movie You To Me Are Everything, Dingdong Dantes plays Rafael, a city boy who comes from an affluent family. His father's conviction, however, resulted in his lost of assests, status and even his home. When he needed to get his life back on track, he met Iska, played by Marian Rivera - the instant rich girl from the province who inherits bulk of his father's assets, including the foreclosed mansion of Rafael's family. Can two people from different worlds make it work?

Rafael becomes Iska's business adviser and uses her to become rich again. Until he finds out that she'll change him more than he expected.
Code:
http://rapidshare.com/files/389893557/You.To.Me.Are.Everything.2010.CAMRip.PF.UPLOADED.BY.DENCIO.avi.001
http://rapidshare.com/files/389886660/You.To.Me.Are.Everything.2010.CAMRip.PF.UPLOADED.BY.DENCIO.avi.002
http://rapidshare.com/files/389883278/You.To.Me.Are.Everything.2010.CAMRip.PF.UPLOADED.BY.DENCIO.avi.003
http://rapidshare.com/files/389878616/You.To.Me.Are.Everything.2010.CAMRip.PF.UPLOADED.BY.DENCIO.avi.004
http://rapidshare.com/files/389921056/You.To.Me.Are.Everything.2010.CAMRip.PF.UPLOADED.BY.DENCIO.avi.005

http://rapidshare.com/files/386420909/HJSPLIT.UPLOADED.BY.DENCIO.rar